Do you desire to cultivate more self-love, and self-care in your life?
Do you wish to learn the tools that can support this desire?
If the answers are YES!!! We invite you to join us for the first annual Healthy Sexy Green Woman Retreat in gorgeous Tulum, Mexico
July 25 -30 2018
Hosted by Health Coaches and Yoga Teachers:
THIS IS FOR YOU WHO
Is ready to take your health into your own hands. Unifying mind, body and spirit.
Is willing and able to learn to be more accountable for your thoughts, words, and actions. Cultivating presence.
Is eager to learn how to be more sustainable in your life and for the earth.
Desires more connection to self, others, and nature.
THE JOURNEY
This journey is one of deep self-love, and intuitive self-care study.
Yoga Instructors, Health Coaches, and your Healthy Sexy Green guides - Barbara, Megan, and Jesicca, join forces to offer a transformational journey, for you who longs for more self-love and self-care in your life, and desire to get back in touch with your feminine.
You will rise each morning to an ocean-front meditation and energizing movement practice. You will feel nourished throughout the day with delicious fresh healthy meals and transformational experiences. You may engage in daily healthy sexy green living discussions based on yoga, self-care practices, mindfulness teachings, as well as our own personal experiences.
Through the alchemy of spiritual & transformative practices such as: yoga, meditation, aromatherapy, acro yoga, sound healing, thai bodywork, fitness, dance, breath-work, and self-care rituals; The Healthy Sexy Green Goddess within you awakens, guiding you towards the most ecstatic experience of your life.
After this retreat, you will go home with tools to support you in taking care of yourself in mind, body, and spirit. You will leave feeling inspired and motivated to love and care for yourself, creating a ripple effect that generates a sustainable life that supports your growth as a woman, your family, and the environment at large.
THE SPACE
Amansala Eco-Chic Resort & Retreat Center in Tulum, Mexico
July 25 - July 30, 2018
Amansala offers relaxed eco chic accommodation like no other boutique hotel in Tulum.
Rooms vary from small private rooms to large shared rooms. All are spacious, with attention to detail throughout. The restaurant serves fresh fish, local produce and the tastiest mango margaritas in the Riviera Maya. Their signature eco chic style is found at all of our properties and is both relaxed yet with attention to detail.
Tulum is a trendy alternative destination where people spend dreamlike vacation with a mesmerizing view of the Caribbean Sea in a secluded and relaxing atmosphere, minutes away from the Tulum ruins and hidden cenotes.
By far one of the hottest spots of the world for your wanderlust bucket list, offering a wide range of adventure, self-pampering and gastronomical experiences to welcome any kind of traveler, whether you are looking for a fun tropical vacation or a deeply spiritual journey.
Five nights of self-love, self-care, inspiration, learning, connection, and AWEmazing experiences. Travel brings a sense of awe into our lives and in awe is where we find the extraordinary and stimulate wonder and curiosity. Research has shown that brief experiences of awe can redefine the self in terms of the collective and orient our actions toward the interests of others enabling us to act in more collaborative ways.
Bright sun, white sand, fresh tropical air, and the bluest waters await as you dive deep into your self-care practice and unleash the Healthy Sexy Green Woman Spirit within.
THE FLOW
This retreat is a full day itinerary designed to give you a 6 day/5 night immersive experience of self-care and self-love practices, while cultivating new healthy sexy green living habits. You will leave having a new sense of self, others, and nature.
We will have a detailed itinerary very soon, but below is an outline of what you can expect. Please remember that we may need to swap things out due to Mother Nature or to accommodate a new option so flexibility is necessary.
Here is a sample of a day together:
Wake-up tea and lemon water

Sunrise Meditation

Morning movement practice

Breakfast

Self-Care Workshop

Delicious Lunch

Creative Time, Wellness Rituals, Excursions and Adventures, Relaxation

Evening Movement Practice - Acro Yoga, Budokon, Yoga, Dance, Thai- bodywork

Exquisite Dinner

Women's Circle - Healthy Sexy Green Living mindfulness discussions and play time
I am holistic Health Coach, Yoga Teacher, Performer, and self-proclaimed Self–Care agent committed to helping you become more Healthy, Sexy, & Green.
I believe that at the root of all positive change we want to create in our lives, we must begin with self-love; and the path to self-love is through self-care
My philosophy is simple: Eat foods that came from the earth and have been touched by the sun (Healthy). Be present and aware of your thoughts, words, actions and how they are shaping your life (Sexy). Honor mother earth, be mindful of the material things you acquire and how you dispose of them (Green)
I am a certified Budokon® Yoga Instructor from Budokon®University, a certified Health Coach with the Institute for Integrative Nutrition, a Yoga Alliance certified Karma Vinyasa Yoga Instructor from 305 University, an AcroYoga International certified AcroFit Trainer, and a Stoked Yogi Stand-Up Paddleboard Yoga Instructor. I have been practicing yoga since 2006 and teaching since 2010.
Megan's passion, career, and hobby is health & fitness. With over 10 years of experience, she holds a Diploma in personal training from the National Personal Training Institute where she also studied nutritional counseling.
Megan started her wellness career focusing on the "physical" in the fitness industry. Her background as a Personal Trainer, Group Fitness Instructor & AcroYoga and Slackline Teacher brings a fun, diverse and challenging dynamic to her training & yoga classes.
She earned her 200 Hour Yoga Teacher Training certificate through the Yoga Alliance in Maui, Hawaii. The healing and transformative properties of yoga and meditation opened her up to a whole new world of mind- body health that allowed her to access the spiritual side of the practice. She loves to share the gifts of crystal bowl sound healing and infuse therapeutic grade essential oils to enhance her students experience through the senses.
Megan believes how you fuel your body is just as important as how you move your body. She has studied nutrition and behavior counseling in depth and has earned her Holistic Health Coaching Certificate from the Institute of Integrative Nutrition. She specializes in lifestyle transformations an she teaches how to make healthy habits accessible and enjoyable using non toxic,natural solutions. Megan's special interest in culinary led her to explore her passion and create "Mega Sweets Vegan Treats" a healthy dessert company. She teaches the combination of mindset, movement, nutrition and lifestyle harmonize together to create your happiest and healthiest self.
Jesicca's life passion is to inspire and motivate those who are looking for purpose, playfulness and well-being. She is a Holistic Health Coach, Yoga and Budokon teacher with over 11 years of experience in the field, inspiring clients to find and maintain over all well-being through exploring and finding the exercises, foods and practices that work best for each person. She has become an Essential oil lover and educator passionate about sharing the powerful benefits of plant medicine and their healing properties. She is trained in several additional disciplines including Acro Yoga, Vedic Thai, Sup Yoga, Suspension Yoga and many more.
Jesicca combines all her trainings and creativity to create a unique experience that will leave you feeling refreshed, re-energized, motivated, rejuvenated and inspired.
Jesicca is a Certified Personal Trainer who specializes in Functional Weight Training, Calisthenics, Assisted Stretching, and Myofascial Self-Release Protocols. She has a unique way of combining all her passions and trainings to create an exhilarating, transformational, and playful experience.
THE INVESTMENT
Garden Basico Room - $1,795 - 1 person in 1 room in the garden.

Garden Triple Room - $1,495 pp - 3 people in 1 large room with 3 beds (Book this one if booking with 2 other friends)

Garden Double Room - $1,595 pp -2 people in 1 room with 2 queen beds (Book this one if booking with a friend)

Beachfront Double Room - $1,795 pp - 2 people in 1 room with 2 queen beds (Book this one if booking with a friend)

Garden Plus King - $1,995 1 person or $1,695 pp 2 people sharing 1 king bed

Beachview King - $2,250 1 person or $1,795 pp 2 people sharing 1 king bed

Best Beachfront King - $2,375 1 person or $1,895 pp 2 people sharing 1 king bed

Early Bird 10% OFF before May 1st, 2018 - must pay in full for early bird discount.

Email us at HealthySexyGreenRetreats@gmail.com with any questions.
Room Options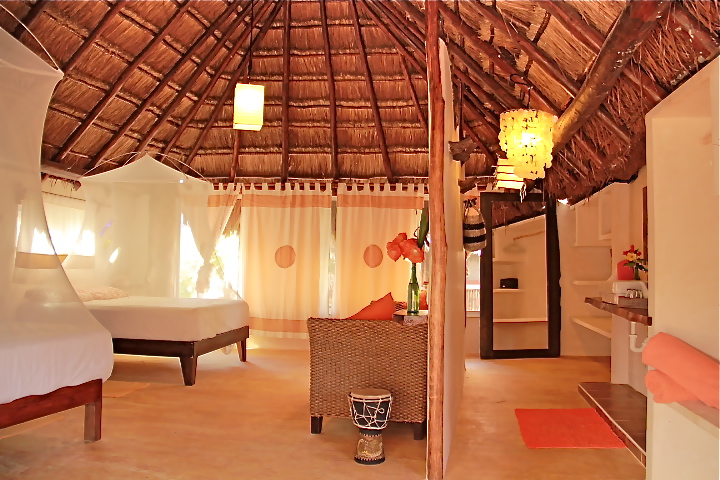 INCLUDED
5 Nights Eco-Chic Accommodations at Amansala Resort & Retreat Center

Breakfast, lunch, snack & dinner daily (excludes 1 dinner)

Twice daily movement practices

Twice daily women's circle and self-care workshops

Mayan clay ritual

Jungle Gym Experience

Private airport transfers*

All hotel taxes, gratuities, and wi-fi

Swag bag with Healthy Sexy and Green Products to support you on your journey
* Transfers avaialble from Cancun airport to Amansala Resort and vise versa on specific times on July 25th and July 30th. You may be asked to wait for others to arrive to get a group together in the shuttle.
NOT INCLUDED
International airfare to Cancun Airport (Arrive July 25th 12pm or before, Depart July 30th after 12pm)

Travel insurance (recommended). We recommend WORLD NOMADS

Excursions (you will have time every day to go on your own)

Additional food and drinks you can order at the Restaurant or Bar: juices, cocktails, a la carte meals, etc.
THE HEALTHY SEXY GREEN WOMAN MANIFESTO
HEALTHY
Body, I honor you as the temple of my soul. I offer you healthy foods, drinks, and physical activity that nourish, build, and energize you naturally.
SEXY
Mind, I honor you as the temple of my thoughts. i offer you accountability and awarenss for the life I create, positive thoughts, compassion, and stillness.
GREEN
Earth, I honor you as the temple of all beings. I offer to sustain you by creating less waste, planting food, and using eco-friendly products.
Interested but not ready to join us yet?
Sign up for the retreat e-mail list & you'll receive soulful reminders.